Cultural Cuisine @ Grandchamps
January 26 @ 6:00 pm

-

9:00 pm

$27.00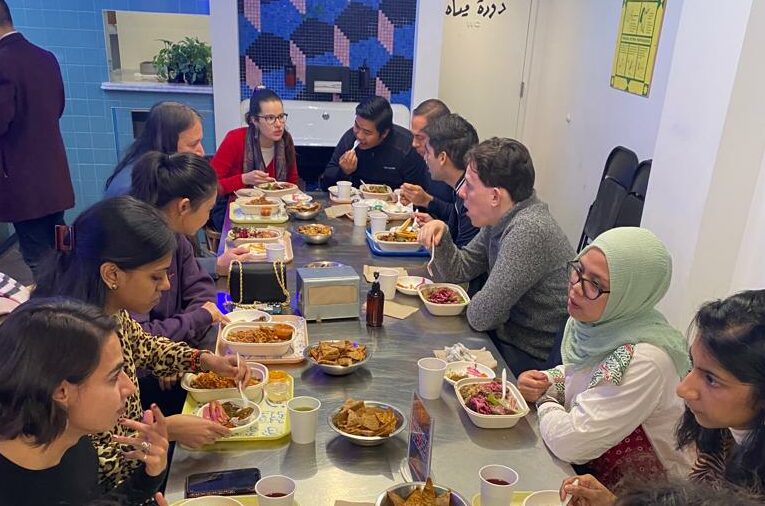 One To World's Cultural Cuisine is back for its 2nd dinner of the academic year! Get together and enjoy New York's vibrant restaurant landscape on a student budget! Whether you are a dedicated foodie, especially interested in one national cuisine, or simply looking to spend your evening among other students from all over the world, you are encouraged to join the first dinner of the new semester and kick-off 2022 right!
This month's restaurant pick is the Haitian restaurant and Black owned grocery business, Grandchamps. The owners, Sabrina and Shawn Brockman opened Grandchamps in the Brooklyn neighborhood Bedford-Stuyvesant in 2015. Since then, their mission has been to share with others some tasty dishes from Sabrina's Caribbean home. With their restaurant, café, and market, they also provide an open space for other Haitian artists and entrepreneurs to share their craft and culture. During the pandemic and a peak period of the Black Lives Matter Movement, the Brockmans aimed to reinvent the working experience for their employees. By hiring primarily young Black people from the neighborhood, Grandchamps received recognition as a new work pioneer and was featured in the New York Times.
There is plenty to talk about when dining at Grandchamps and getting to know their staff, cuisine and working culture! Join us at their Bed-Stuy location for a full dinner with family-style appetizers to share and an individual meal to choose from on the menu. In between eating and conversation, the chef will give us a short intro to the origin of the idea behind the venue.
Have a look at the menu below and please indicate your entree of choice upon registration.
**Proof of vaccination and a valid I.D. is required for indoor dining.
**Please note that all program fees are nonrefundable.
Appetizers (served family-style)
HAITIAN PATTIES
A baked puff-pastry filled with savory fillings. You can taste their spinach, beef, chicken and codfish pates. At home, patties are usually the result of last night's leftovers folded into dough and baked for a delicious breakfast and all day treat.
Entree (choose one)
You can choose between three Haitian classics that highlight regional specialties and are updated to reflect seasonal changes. All come served with Mixed Salad, choice of Rice and Beans, Black Rice, or White Rice with Sòs.
Special notes about menu terms:
Sauce, or sòs in Kreyol, is a stock-based meat sauce—which is best cooked slowly—used to accompany fried meats and rice, and can be poured over or used as a dip with just about anything. Grandchamps makes theirs with reserved poultry bones, fresh stock vegetables, tomato paste, vinegar, hot peppers, and Haitian seasonings.
Pikliz is a condiment in Haitian cuisine of pickled cabbage, carrots, bell peppers and Scotch bonnet peppers. It is often seasoned with garlic and onion and pickled in white vinegar.
POUL FRI – Chicken Legs & Thighs Marinated and Fried. Served with Pikliz and Sòs.
Known as Poul Fri, Haitian Fried Chicken skips the batter of the American style dish and instead infuses the meat with aromatic spices and seasonings.
LEGIM – 

Slow-Cooked Stewed Vegetables. Served with Pikliz and Sòs. (Vegan)
Legim is a slow-cooked hearty vegetable dish that can include eggplant, squash, watercress, cabbage, carrots, and others. Typically, it's prepared with the addition of meats which can include salt pork, small crabs, conch meat, beef, or a combination of these, but at Grandchamps, they keep it vegan to introduce a twist in taste.
GRIYO – Marinated and Slow-Cooked Pork. Flash Fried. Served with Pikliz and Sòs.
A popular Haitian staple, Griyo consists of cubed pork meat marinated, boiled until tender, and then fried crisp.
Details
Date:

January 26

Time:

6:00 pm - 9:00 pm

Cost:

$27.00

Event Tags:
Organizer
Phone:

(646) 948-1941

Email:

carina@onetoworld.org
Related Events
August 21 @ 10:00 am

-

12:00 pm

September 3 @ 12:00 pm

-

5:00 pm

September 7 @ 6:30 pm

-

10:30 pm