Each year through One To World, hundreds of New York area residents volunteer to open their homes, hearts, and workplaces to Fulbright grantees and international students for a meal, a weekend visit, or a holiday celebration.
We have a variety of programs to connect international students with American hosts. If you are interested in becoming a host, please fill out the form below or contact Marisa Silva, Director of Membership & Programs, or call (212) 431-1195.
Thanks to our hosts and intercultural programs, 83% of One To World international students feel more connected to local communities in the U.S.
Connect with Fulbright Grantees & International Students
Dinner Diplomats
Invite a small group of international students or Fulbright grantees to share a meal and an exchange of ideas in your home. These gatherings can be organized throughout the year to accommodate your schedule.
Discover New York
Each fall we pair newly-arrived international students and visiting Fulbright grantees with local residents for a day and ask that the host take the students to some of their favorite places around New York City (or beyond).
Job Shadowing
Offer international students a unique opportunity to spend time in an American workplace, getting a sense of the environment and networking with a professional in their field of interest. Our team works with you to come up with an agenda that makes sense for your professional environment.
Holiday Home Hospitality
Invite international students and visiting Fulbright grantees to share in your holiday celebrations. Thanksgiving is the most popular but we also organize these visits for Christmas, Hannukah, Easter, and many more.
Coordinate a Community Visit
One To World's popular Community Visits bring groups of international students into urban, rural or suburban communities for one-day or overnight visits with local families. Each Community Visit is made possible through the leadership of a local volunteer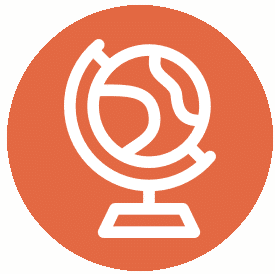 "It's hard to put this Thanksgiving weekend into words. We loved every second of our time with our guest Amanda. This was by far the best Thanksgiving we've ever had. It's given us a desire to open our home more often and to get to know the cultures around us, rather than staying isolated."

- Thanksgiving host from Pennsylvania
Want to learn more? Reach out to us
"I really enjoyed the [Thanksgiving] homestay. I felt like I've gained a new family. The family that I stayed with hosted intergenerationally and that was a very magical experience to see how the family came together to extend hospitality to their guests. We spent time with 4 generations of that family throughout the 5 days."