One To World also offers an abridged version of our NYC Survival Guide, the The International Student's Survival Guide for the United States. You can download this book for free.
"I really like the International Student Survival Guide. It is thorough, detailed, up to date, and written with care. I can see that your team has put a lot of effort into it. I also appreciate that it helps me to learn about NYC even before I go there. I hope you will continue distributing this book to future international students."
Taxes
International students in the U.S. are required to file a tax return each year with the Internal Revenue Service (IRS). You must file at least one form with the IRS, even if you do not earn income in the U.S. The good news is that if you overpaid tax, you will get a refund!
Filing Your Tax Return
You can use a U.S. tax preparer for international students such as Sprintax to guide you through the process of preparing and completing your U.S. tax return. We (and all other university staff) are not qualified or allowed to provide individual tax advice. 
After you login to Sprintax, it will ask you a series of questions about the time you have spent in the United States and in which immigration status, looking back over a period of years. Sprintax will then determine your tax status. If it determines that you are a "nonresident alien" (NRA) for federal tax purposes, you can continue to use it to respond to a series of guided questions. Sprintax will complete and generate the forms you need to print, sign, and mail to the IRS (Internal Revenue Service). If it determines you are a resident alien for federal tax purposes, you won't be able to continue using the software.
For more information, please visit Sprintax's website. If you have any questions about Sprintax, please email hello@sprintax.com or talk to the friendly team at the 24/7 online chat help.
News & Advocacy
Keep up to date with international education news and updates, and learn more about how One To World supports international exchange and international students on our advocacy page.


International Student Programming
Our events offer a range of benefits to international students; From developing career skills to meeting new friends from the U.S. and abroad, check out our
event calendar
 for it all!
In addition to our monthly programs, we strongly encourage you to get involved in
Global Classroom
!
Global Classroom
provides international students an opportunity to lead interactive, curriculum-related presentations in New York City public schools about their countries and cultures as well as their academic disciplines.
Global Classroom
is a wonderful way to further Senator Fulbright's message while learning more about the city from the perspective of its young people. We hope you'll choose to get involved right away and help us in our efforts to bring the world into NYC schools!
Keep up to date with news, events, and resources for international students by following us on Instagram, Twitter, Facebook, and LinkedIn.
One To World offers international students the ability to participate in a very wide array of great activities. No matter what your interests are, you'll always find a One To World event that's right for you.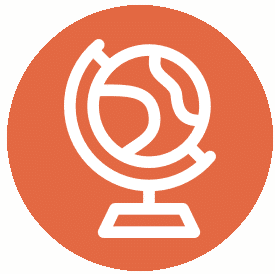 Have any more questions about One To World and our services?
Check out our FAQ page for more information.