About The Fulbright Awards Dinner
Each year, One To World honors outstanding individuals who have furthered Senator J. William Fulbright's vision of peace through intercultural awareness and understanding at the One To World Fulbright Awards Dinner. The late Senator Fulbright was honored at this event in 1993, and Harriet Mayor Fulbright continues to serve as Honorary Chair in his memory.
The One To World Fulbright Awards Dinner is a benefit event aimed at raising money for One To World programs as well as awareness of the Fulbright program. Awards are presented by visiting Fulbright grantees currently affiliated with New York area academic institutions before an audience of international leaders in business, higher education, the arts, and government!
One To World 2024 Fulbright Awards Dinner
The 2024 One To World Fulbright Awards Dinner will be held on Tuesday, May 21, 2024 at 583 Park Avenue in New York City. More updates will be provided as the event approaches! If you would like to sign up for our newsletter list to receive updates about this event and other One To World activities, please visit our sign up page now!
One To World 2023 Fulbright Awards Dinner
In 2023, One To World is proud to have honored: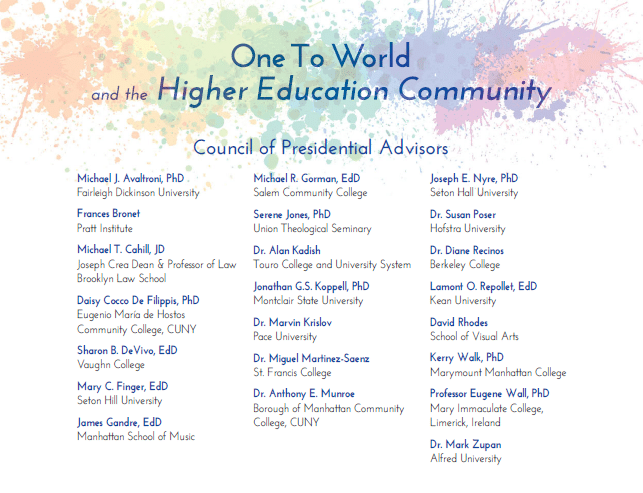 The Honoree Circle is One To World's official recognition of the distinguished individuals we have been privileged to honor since the first Fulbright Awards Dinner in 1991. Members include:
2023
AUDREY CHOI*, Global Sustainability Leader
SOOK NYUL CHOI*, Author & Lecturer
THOMAS M. MORIARTY, CVS Health
HAMDI ULUKAYA, Chobani
2022
RAM JAGANNATH*, Blackstone
GEORGE M. LOGOTHETIS, Libra Group
MORGAN RADFORD*, NBC News
TONI G. VERSTANDIG, Verstandig Family Foundation
2021
ESTHER T. BENJAMIN, World Education Services
ISABELLE DE LA HOUSSAYE , Material Culture
GEORGIA LEVENSON KEOHANE*, Columbia Business School
SARA MILLER MCCUNE, Sage Publishing
2019
ERICA BERTHOU, Kirkland & Ellis LLP
GEORGIA GARINOIS-MELENIKIOTOU*, Estée Lauder Companies Inc.
JAMES C. RHEE, FirePine Group
2018
CREIGHTON CONDON, Shearman & Sterling LLP
AMBASSADOR EDWARD E. ELSON, Former U.S. Ambassador to Denmark
KEN FORDE Former Board Chair, One To World
ALLISON GUSHÉE MOLKENTHIN*, Bentley Associates L.P.
2017
MADELYN ANTONCIC, PH.D. The World Bank
JEFFREY BEERS*, Jeffrey Beers International
THE HON. FRANK J. GUARINI, U.S. House of Representatives; Representative, U.N. General Assembly
WHITNEY TILSON, Kase Capital Management
2016
DIDRIC CEDERHOLM*, Lion Point Capita
TERRENCE F. MARTELL, PH.D., Weissman Center for International Business, Baruch College, CUNY
CLARKE MURPHY, Russell Reynolds Associates
WENKE B. THOMAN STERNS, Industrial Mineral Holdings, Inc.
2015
JAMES B. MILLIKEN, The City University of New York
ALAN J. POMERANTZ, Pillsbury Winthrop Shaw Pittman LLP, Kimberlite Group, LLC
THE HON. KENNETH D. TAYLOR, Former Canadian Ambassador to Iran
DR. PATRICIA E. TAYLOR*, Epidemiologist
2014
ÁSLAUG MAGNÚSDÓTTIR*, Tinker Tailor
BOB MORITZ, PricewaterhouseCoopers LLP
FERNANDO NAPOLITANO, Italian Business & Investment Initiative
JOHN ZOGBY, Zogby Analytics
2013
GIANLUIGI ESPOSITO*, Altieri Esposito & Minoli
SUSAN E. CARMEL, American University's Initiative for Russian Culture
ISAAC SHAPIRO*, Skadden, Arps, Slate, Meagher & Flom
DR. DAVID STEINBERG*, Long Island University
2012
J. FRANK BROWN, General Atlantic
MARTIN GARBUS*, Eaton & Van Winkle
SUSIE GHARIB, PBS' Nightly Business Report
FEREYDOUN NAZEM, Nazem and Company
2011
JACOB HAAR*, Minlam Asset Management
ROELFIEN KUIJPERS, DB Advisors, Deutsche Bank
GARY G. MUELLER*, Eagle Capital Management
SHERRY LEE MUELLER, PH.D., National Council for International Visitors
2010
MARGARET BRENNAN*, Bloomberg Television
DAVID W. HELENIAK, Morgan Stanley
MARCO V. MASOTTI*, Paul, Weiss, Rifkind, Wharton & Garrison LLP
WENDELL MOTTLEY, Credit Suisse
2009
VANESSA B. KERRY, M.D.*
STEPHEN F. MOSELEY, Academy for Educational Development
WILLIAM R. RHODES, Citibank, Citi
BETSI AND CHRISTOPHER SHAYS
MATT H. AND MELANIE L. YILDIZLAR, Yildizlar Education Fund
2008
EMILY ALTMAN, JPMorgan Chase & Co.
BARBARA CROSSETTE*, The New York Times
MATTHEW A. DALIO, China Care Foundation
KEVIN E. PARKER, Deutsche Asset Management*
2007
CHRISTOPHER B. BURNHAM, Former UN Under-Secretary-General for Management
MEERA GANDHI
VIKRAM GANDHI, Credit Suisse
JEAN KAROUBI*, The LongChamp Group, Inc.
PHYLICIA RASHAD
2006
CORNELIUS B. PRIOR*, Atlantic Tele-Network, Inc.
ROBERT J. SCHWEICH, Burnham Securities Inc.
DR. MARJORY E. SEARING, Pfizer Inc.
THE HON. CLIFFORD M. SOBEL, U.S. Ambassador to Brazil
2005
MARIAM ASSEFA, World Education Services
EVE BURTON*, The Hearst Corporation
ROHIT M. DESAI, Desai Capital Management Inc.
STEVEN C. ROCKEFELLER, JR., Grameen Foundation USA
2004
DR. DAVID A. CAPUTO*, Pace University
ALEXANDRE DE LESSEPS, BlueOrchard Finance
DR. GABRIEL HAWAWINI*, INSEAD
MARIA FIORINI RAMIREZ, Maria Fiorini Ramirez, Inc.
2003
ROBERT J. BRENNAN, American Institute for Foreign Study, Inc.
THOMAS S. JOHNSON, GreenPoint Financial
LORIN MAAZEL*, New York Philharmonic
VIOLY MCCAUSLAND-SEVE, Violy & Co.
2002
VICTOR J. MENEZES, Citibank, N.A.
WASHINGTON SYCIP, The SGV Group
CAROLINE A. MATANO YANG, J. William Fulbright Foreign Scholarship Board
2001
E. GERALD CORRIGAN, Goldman, Sachs & Co.
EDNA FUERTH LEMLE, World Gratitude Day
RANGU SALGAME, Edgix
2000
DR. JOHN BRADEMAS, New York University
HARRIET MAYOR FULBRIGHT, J. William & Harriet Fulbright Center
DR. CLAIRE L. GAUDIANI*, Connecticut College
1999
PETER MAYER*, The Overlook Press
PAUL AND DAISY SOROS, Paul and Daisy Soros Fellowships for New Americans
1998
CITIBANK, N.A., Corporate Sponsor of Fulbright Scholarships, Received by: Shaukat Aziz
RODMAN C. ROCKEFELLER, U.S.-Mexico (Fulbright) Commission for Educational and Cultural Exchange
MARY A. THOMPSON, Co-Founder, Metro International (Now One To World)
1997
DR. RITA E. HAUSER* The Hauser Foundation
JOHN B. HURFORD*, BEA Associates
DR. L. JAY OLIVA, New York University
1996
DR. ALICE STONE ILCHMAN, Sarah Lawrence College & The Rockefeller Foundation
JOSH S. WESTON*, Automatic Data Processing, Inc.
Master of Ceremonies: Alan Alda
1995
STANLEY H. KAPLAN, Stanley H. Kaplan Educational Center, Ltd.
DR. YASUMITSU NIHEI*, Keio Academy of New York
Master of Ceremonies: Bill Irwin*
1994
NELL MERLINO*, Count Me In
J. RICHARD MUNRO, Time Warner Inc., Master of Ceremonies: Carol Jenkins
1993
J. WILLIAM FULBRIGHT, U.S. Senator & Author of Fulbright Act of 1946
1992
MILTON GLASER*, Milton Glaser, Inc., Special Award
CASSANDRA A. PYLE, Council for International Exchange of Scholars
Special Guests: Peter, Paul and Mary
1991
RUTH STEINKRAUS-COHEN, International Hospitality, Committee of Fairfield County
ALBERTO VITALE*, Random House
Master of Ceremonies: Roger Rosenblatt*